Walking - it's free, easy, and great for your health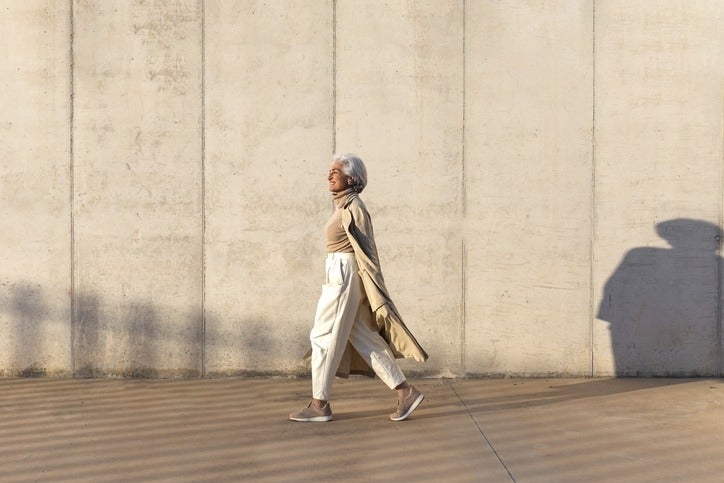 Staying physically active is one of the best ways to stay healthy. And one of the simplest ways to stay active is walking.
The benefits of walking
Exercise doesn't have to be complicated. Walking may not be the first thing that comes to mind when it comes to exercise, but it has many benefits:
It's ok to start slowly
If it's been a while since you exercised regularly, you may want to start out slowly or talk to your doctor before starting, but generally, 30 minutes of physical activity a day is recommended. You can start with short walks and work up to 30 minutes a day. The most important thing is to just get started.
Walk and talk
Chances are you'll stick with a walking program if you have someone to walk with. Ask a friend to join you or see if your local senior center offers walking programs.
Wear comfortable sneakers
If you have foot problems, consider orthopedic shoes or talk to your doctor about how to develop a walking program.
Don't let a cane or walker stop you
It's okay to use your cane or walker if you already have one. These can improve your balance and help take the load off painful joints.
Set the right pace
Try to walk at a good pace, but still be able to chat with a friend while walking. Aim to work as hard as you do when you climb up the stairs.
What if walking isn't practical?
The most important thing is to be active regardless of the activity. If walking doesn't work for you, choose a different activity that matches your needs and ability. Whether that is gardening, swimming, or stretching while seated. The secret is to find an activity you enjoy doing, include it in your routine, and increase your level of activity over time.
What counts as exercise?
"Exercise" can mean many different activities depending on your age and ability, such as:
Riding a bike
working around the house
Gardening
Getting in and out of a chair without assistance
Climbing stairs
Lifting weights or using a resistance band
Stretching to maintain flexibility
Staying active helps to:
Improve strength so you can stay independent
Increase your energy level
Improve your balance to help prevent falls
Prevent or delay some diseases like heart disease, diabetes, breast and colon cancer, and osteoporosis
Perk up your mood and reduce depression