How to Prevent Winter Falls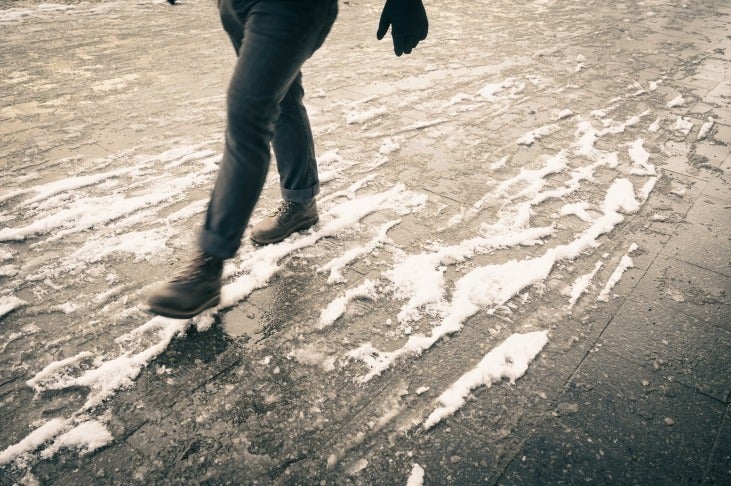 Each winter comes with the danger of slipping on patches of snow or ice. These hazards are especially dangerous for older adults. Fractured ankles and broken hips are some of the most common injuries caused by slipping on snow or ice, but all falls present a serious risk. According to the Centers for Disease Control and Prevention (CDC), falls are the leading cause of both fatal and nonfatal injuries among older adults.
5 Ways to Avoid Winter Falls
Wear the right footwear. Shoes with rubber soles and good tread provide better traction than leather or plastic soles.
When walking on slippery surfaces, bend your body slightly forward and take shorter strides.
Allow extra time to get to your destination. Avoid rushing or taking shortcuts across slippery areas.
Use cleared pathways that have been treated with sand or salt.
Make sure your footing is solid when getting into or out of a car.
Are you at risk for falling?
Answer these three questions to find out:
Have you fallen in the past year?
Do you feel unsteady when standing or walking?
Do you worry about falling?
If you answered YES to any of these three questions, you may be at risk for falling. Especially if you have gait, strength, or balance problems. Falls are linked to physical conditions, medical problems, medications, or safety hazards in the home. Additionally, if you have a fear of falling this can make you more vulnerable to being less active and falling.
Talk to your doctor
Your doctor might suggest a falls assessment, changes to medication or supplements, new eyewear prescriptions, physical therapy, and possibly a walking aid. Your doctor should know about any falls you have had and if you're worried about falling.
Should you have a bone mineral density (BMD) test?
If you recently had a fracture due to a fall, you may need a BMD test to determine your future risk for fractures and osteoporosis. Talk to your doctor to see if a BMD test is right for you.
Learn more about preventing falls with these articles from our Health Library: