Fish Tacos with Broccoli Slaw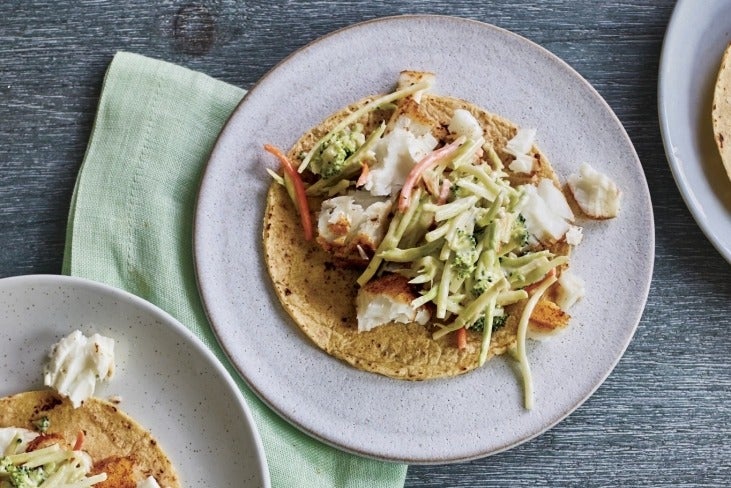 These delicious fish tacos, with fresh crunchy slaw topping, take less than 20 minutes to prepare.
Ingredients
4 firm white fish fillets (about 4 ounces each), such as cod or halibut, 3/4 to 1 inch thick, rinsed and patted dry
1 teaspoon chili powder
1/2 teaspoon ground cumin
1/8 teaspoon garlic powder
2 cups broccoli slaw
1/4 cup chopped, fresh cilantro
1 medium green onion (thinly sliced)
3 tablespoons light mayonnaise
2 tablespoons fresh lime juice
4 6-inch corn tortillas
Directions
Pour the water into the pressure cooker. Place the steaming rack in the pressure cooker. Place the fish on the rack.
In a small bowl, stir together the chili powder, cumin, and garlic powder. Sprinkle the mixture over the fish. Secure the lid. Cook on high pressure for 4 minutes. Quickly release the pressure.
Meanwhile, in a medium bowl, stir together the broccoli slaw, cilantro, and green onion, tossing gently to combine. Stir in the mayonnaise and lime juice until blended.
Heat a small nonstick skillet over medium-high heat. Warm the tortillas, one at a time, turning until heated through. Transfer to a work surface. Place the fish on the tortillas. Top with the slaw. Serve immediately.
Recipe source: American Heart Association