Fruit Salad With Lemon-Mint Yogurt Dressing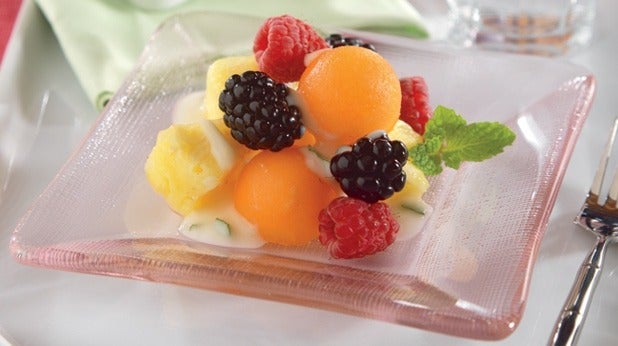 As the weather warms up, cool down with this delicious, colorful summer fruit salad.
Dressing Ingredients
1/2 cup fat-free vanilla yogurt
1 tablespoon chopped, fresh mint
1 teaspoon honey
1/2 teaspoon grated lemon zest
1 tablespoon fresh lemon juice
Salad Ingredients
1/2 cup cantaloupe balls
1/2 cup blackberries
1/2 cup raspberries
1/2 cup fresh or canned pineapple chunks, packed in their own juice, drained
4 sprigs fresh mint (optional)
Directions
In a small bowl, whisk together the dressing ingredients.
In a medium bowl, gently stir together the salad ingredients except the mint, being careful to not crush the berries. Spoon onto small plates. Drizzle with the dressing. Garnish with the mint sprigs.
Recipe source: American Heart Association